Tufts Professionals and Our Patients
Dedication Through the Generations
Each fall, almost 200 new TUSDM students stand before their family, friends, faculty, and classmates. Beaming with pride and anticipation, each approaches the stage and dons a white laboratory coat—the enduring symbol of scientific and medical excellence.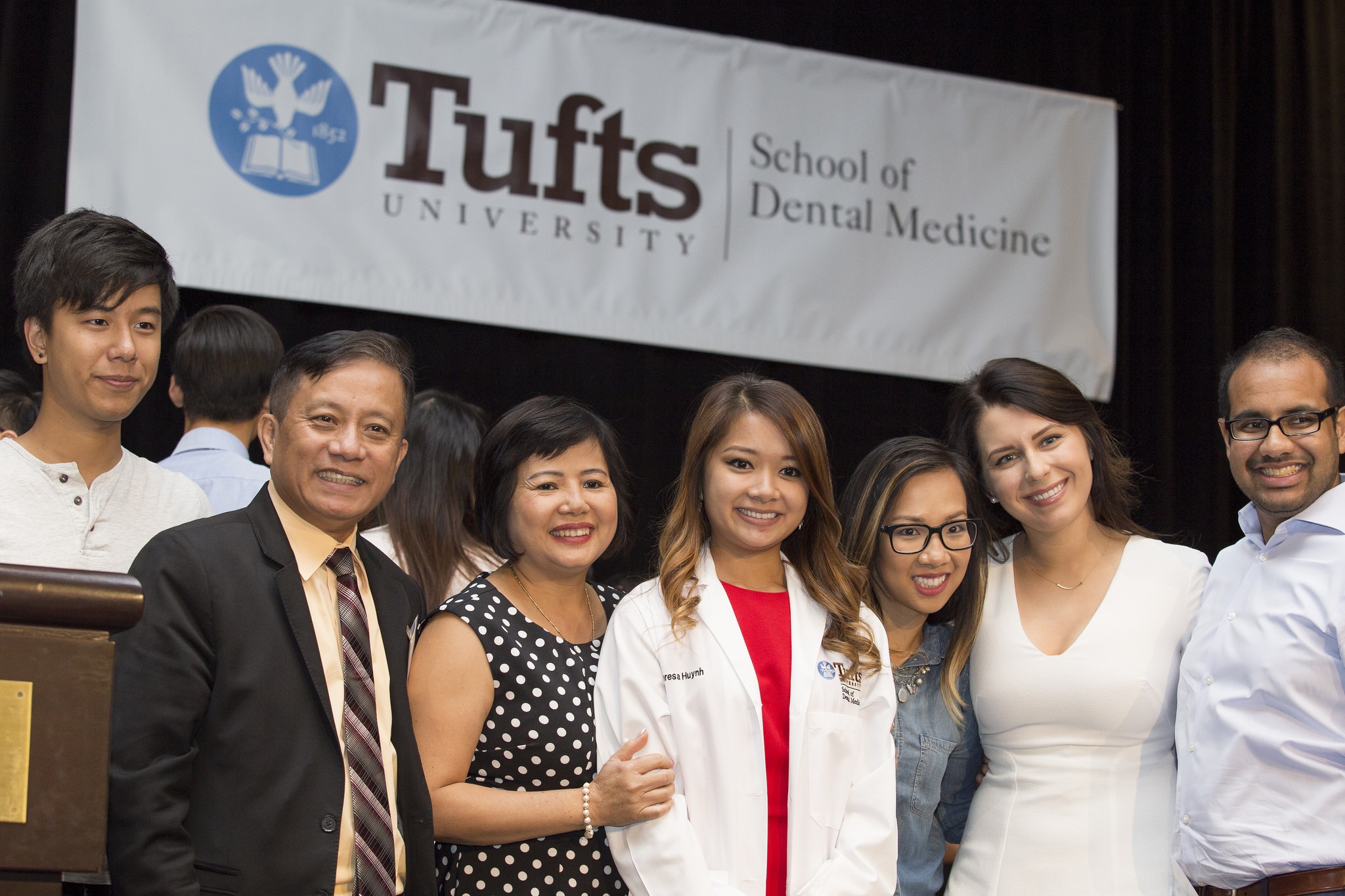 At TUSDM, the White Coat Ceremony signifies more than the beginning of one's coursework. As new students feel the tug of white cloth on their shoulders, they also sense the weight of new responsibilities to their institution and their profession. Most important, as one Tufts administrator recently told an incoming class, the ceremony "symbolizes the responsibility you have to your patients."
Coating ceremonies are a defining moment for students in a variety of healthcare and medical programs, and have become popular across the United States since being introduced at the University of Chicago in 1989.
For years, TUSDM students received their coats during their second year of study; a moment marking the transition from textbooks to clinical practice. In 2016, hoping to reinforce the notion that, from day one, TUSDM students must commit themselves to providing excellent patient care, Dean Huw Thomas moved the ceremony to the first weeks of a student's introductory semester.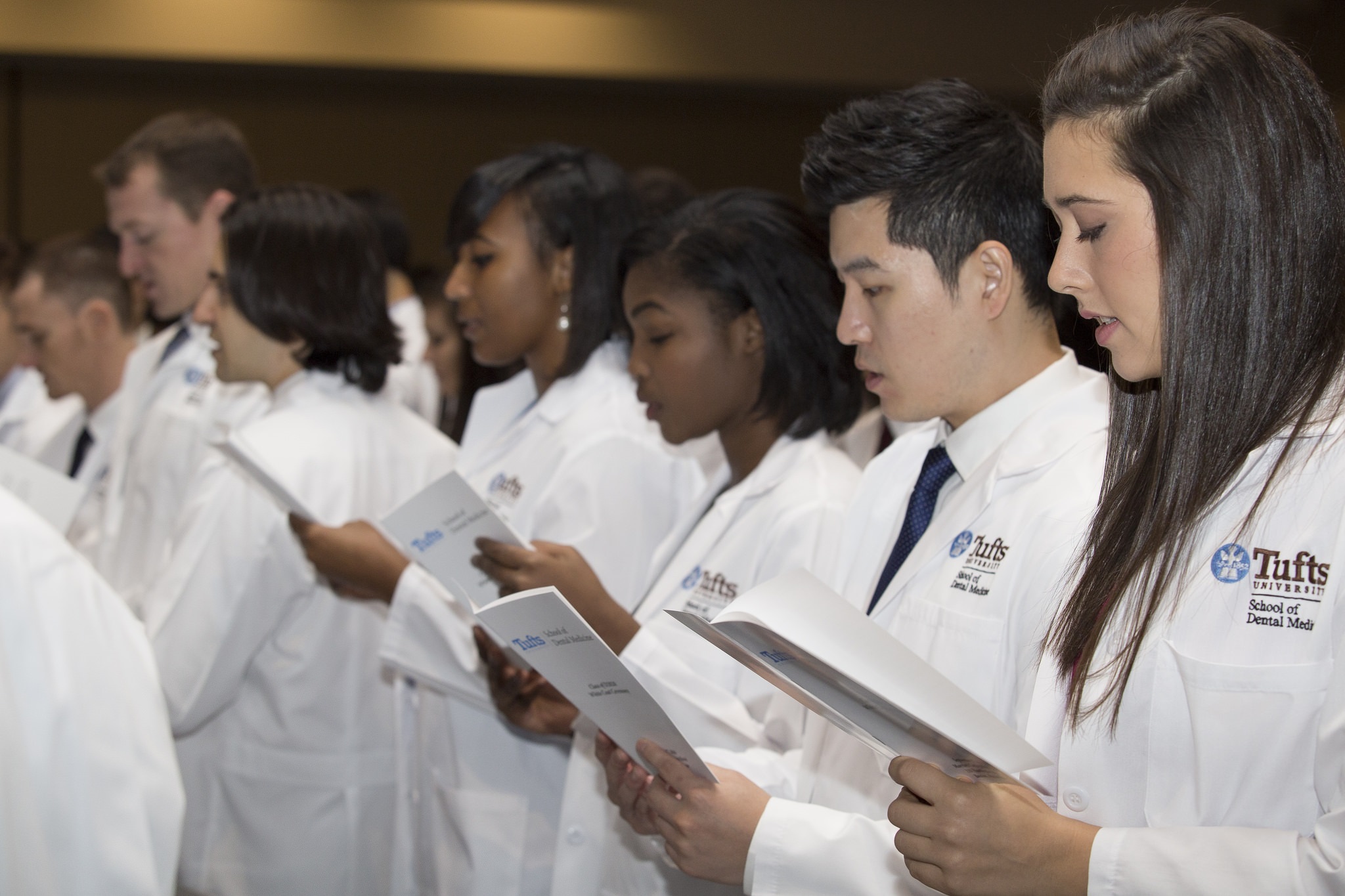 The white coat ceremony also reflects the transfer of skills and responsibilities from one generation of professionals to the next. Within the TUSDM community, this transition sometimes takes place within the same family.
Dr. Paul McKenna, Sr. (D17) opened an orthodontic office in Springfield, Massachusetts after graduating from Tufts Dental. Two of his brothers were also Tufts alums. After McKenna's son, Paul, Jr., completed Navy ROTC and a V-12 training program during World War II, he too enrolled at Tufts.
Paul McKenna, Jr. (D49) recalled how, in the 1940s, TUSDM seniors provided clinical care at eight venues across Boston, where he and his fellow students saw patients from all walks of life. "We had a very eclectic group of people that came in," he remembered, who "wanted the best [care] for their children or for themselves." When he took over his father's practice a few years after graduating, he strove to provide just that.
His son—Dr. Stephen McKenna (D87)—followed in his family's footsteps. "My patients came from all over," Steve remembered of his time working in TUSDM clinics. Many people came to the Tufts clinic because they needed affordable health care. "They were happy to allow me to learn with them," he recalled.
Eventually, many patients "became friends." Steve was always touched when patients took a personal interest in him and his career. As he finished school and began studying for his board examinations, patients eagerly sought to assist him. "They were just thrilled that they were going to help me get my license."
Paul and Stephen McKenna's experiences highlight TUSDM's commitment to training oral health professionals who are dedicated to their patients. This legacy resonates throughout the institution's history, and underscores what was, to Steve McKenna, the fundamental principle of excellent practice: "What's important in dentistry in general" he said, "is that when you have a patient-doctor relationship, it should be one [where] the patient knows that you care for them."