Civic Engagement
Giving Back to the Global Community
More than a century ago, the first generations of TUSDM professionals set their sights on providing care to patients in and around Boston. Over time, the school's graduates have dispersed throughout the United States and around the world, innovating as practitioners and reshaping the public health field.
As parades and firework displays heralded the United States' bicentennial in 1976, Massachusetts residents with developmental disorders and their families had another reason to celebrate. A few years earlier, a class-action lawsuit brought by Dr. Benjamin Ricci, an anatomy and physiology professor at the University of Massachusetts Amherst who had a child with special needs, exposed the inadequacy of medical and dental services for developmentally challenged patients in Massachusetts. The judge in the case ordered the Commonwealth to increase its services. Officials at the Departments of Developmental Services and Public Health reached out to TUSDM for help. Together, they created a one-of-a-kind solution—a community healthcare initiative called Tufts Dental Facilities Serving People with Special Needs that has been serving the Massachusetts community for decades. The Ricci family legacy also continues: Ricci's nephew, Eric John Ricci (D17) matriculated at TUSDM almost forty years after his uncle's groundbreaking lawsuit.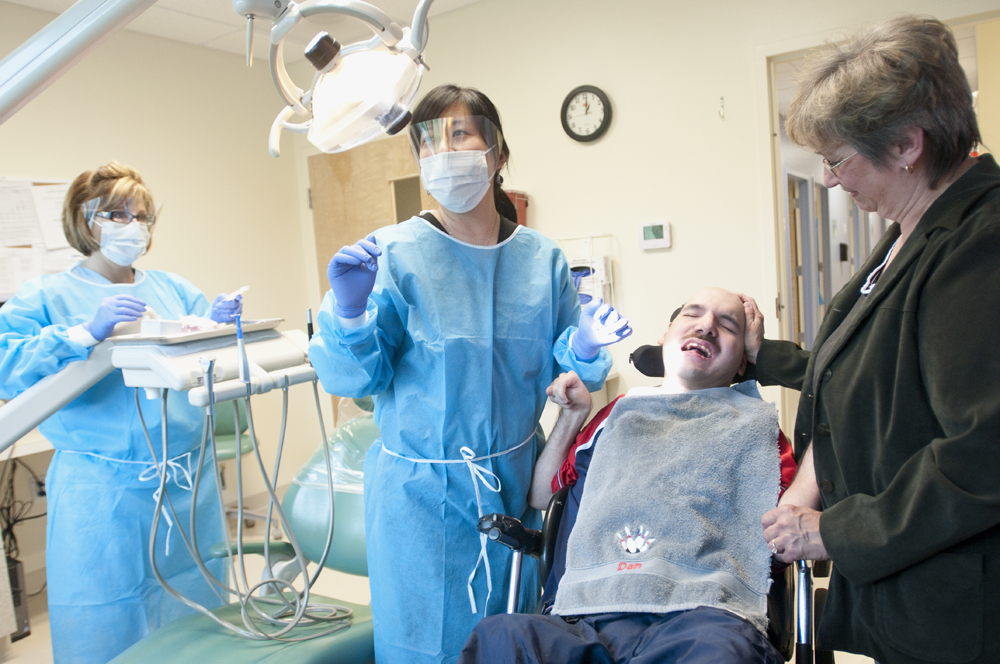 More commonly known as the Tufts Dental Facilities, or simply "TDF," the program developed what grew to be a network of seven clinics across Massachusetts. More than 7,000 patients with developmental disorders receive care tailored to their needs each year, amounting to more than 26,000 annual visits.
Specialized treatment at these clinics offers a wide variety of accommodations. One-on-one time between dental care providers and patients on the autism spectrum creates trust and comfort. Other patients struggle with anxiety or behavioral challenges and sometimes require additional anesthesia or methods designed to calm patients. Often, intellectual and developmental problems limit patients' capacity for regular, effective oral hygiene, which can lead to long-term, and often serious, complications. Accordingly, TDF caregivers search for ways to adjust their work to meet patients' needs.
TUSDM faculty, students, and alumni also bring care to foreign countries, where access to quality dental work is unavailable. In 2004, John Morgan, a faculty member at TUSDM, accompanied a group of students to Zambia in Africa, where they surveyed the status of dental public health. Former Catholic priest Max Gallaba explained to the group that many people had dental problems but virtually no access to care. Over the course of several return trips, Morgan and his students brought their expertise to the rural reaches of Zambia, where the patient-to-dentist ratio can reach 50,000-to-1.
TUSDM faculty and students worked with Gallaba to train a group of ten volunteers who could provide oral health screenings to local Zambians. When patients in the village of Muchila expressed concern about poor water quality in their villages and reached out to Gallaba, Morgan, and former TUSDM administrator Maureen Lombard for help, they contacted a U.S-based Rotary club interested in water quality issues. The group ultimately drilled a pair of wells near the village. Today, clean water contributes to ongoing improvements in oral and general health.
Often, TUSDM-led outreach programs provide vital care to underserved communities. Dr. Jamie Diament-Golub (D87) and her husband Dr. Jon Golub (D85) practice in New Jersey. For the past several years, they—along with their three sons, each of whom is a TUSDM student—have led volunteer trips to Cambodia, Jamaica, Guatemala, Mongolia, and other nations.
"Part of the curriculum [at TUSDM] is about giving out to the community, domestic and international, global," Jon said. This is a message he and his family take to heart, and they work with several groups to provide access to dental care in developing nations. "HealthCare International is a group that we work with in Jamaica," Jon recalled, and "we . . . have been able to create a bridge with Tufts Dental School."
Often, the Golubs and their colleagues suggest what seem like basic improvements. But each has a huge impact. As their son, Zack (D20), put it, "it wasn't until I did a volunteer trip to Guatemala with my parents [that] I really decided on pursuing a career in dentistry. I just saw how much of an impact my parents and the other doctors on the trip had on the children's lives and . . . it really gave me a feeling of satisfaction." Making a difference in patients' lives was, he finished, "an extraordinarily rewarding experience, to say the least."
That difference—like the rest of Tufts' global community initiatives—is as good for TUSDM as it is for the people whose countries they visit. As Jon Golub said, "it's a double win because any volunteer group needs manpower, and the dental students provide the manpower, but at the same time they're getting an education working under instructors" and in challenging environments.