Fostering a Sense of Community from Education to Practice
Living, Working, and Learning at TUSDM
At TUSDM, faculty, students, staff, and alumni are members of a broad family united by their interest in oral health and the legacies of their institution. From their earliest days on campus, students become part of this network, shaping one another's education in courses and labs, clinics and externships. They prepare one another for a lifetime of achievement, no matter where their career leads. Reinforcing these bonds through outreach, dental fraternities and sororities, and alumni events, the TUSDM family stays in touch and constantly fosters a professional community that connects students, faculty, and practitioners throughout their lives.
Fraternities have been active at TUSDM since at least 1895. Founded two years earlier in Baltimore, Psi Omega had 33 chapters in the United States and Canada. The organization published a quarterly periodical, hosted events on campus, and cultivated extensive alumni networks that introduced TUSDM students to dental professionals across the continent. Dental students formed two other fraternities at Tufts: Delta Sigma Delta (known as the "Mu" chapter) and Alpha Omega, a chapter that sought to bring diversity and inclusion—as represented in the symbolism of their crest—to dental schools.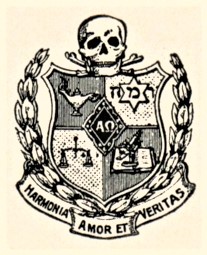 Writing of their 1907 formation, the members of the Tufts AO chapter crystallized values pervasive in their own house and throughout TUSDM. Their founders sought to "bind together a body of professional[s] who, by scholarly attainments, faithful service, and the maintenance of ethical ideas and principles, have achieved distinction," all while "inculcat[ing] into the student body higher ideals and the spirit of fellowship."
Sororities also played a key role in developing this camaraderie, especially among members of TUSDM's African-American student body. Two of the first African-American women at TUSDM—Dr.'s Jessie Gideon Garnett (D19) and Mary Crutchfield Thompson (D30)—were each active members of Alpha Kappa Alpha, a predominately black sorority founded at Howard University in 1908. As Crutchfield Thompson would put it years later, organizations like AKA helped her build "friendships that last[ed] through the years."
In the second half of the twentieth century, a series of TUSDM housing projects brought students even closer together. For decades, many students had commuted to campus. Sensing that shared housing could solve a logistical problem while enhancing the sense of community among students, the Tufts Dental and Medical Schools built a dormitory in 1954. Located just a short walk south from the schools' facilities at 136 Harrison Avenue, the classic, red brick building was called "Posner Hall." This all-male residence housed some 300 medical and dental students. Generations of aspiring dentists studied and socialized together, cementing enduring bonds of friendship and institutional identity.
Women enrolled at TUSDM had a home on Nashua Street, about two miles north of campus. Only a handful of women were enrolled at TUSDM in the middle of the twentieth century. When the school acquired "Hemenway House" in 1953, it was converted into a dormitory that could accommodate about a dozen women. Another building at 100 Riverway, some three miles west of the TUSDM campus, housed female dental hygiene students enrolled in the program at Forsyth Tufts. Supervised by two "house mothers," facilities like these became, as the Riverway class of 1960 wrote, a "home away from home" filled with "cherished memories" that would "not be erased with time."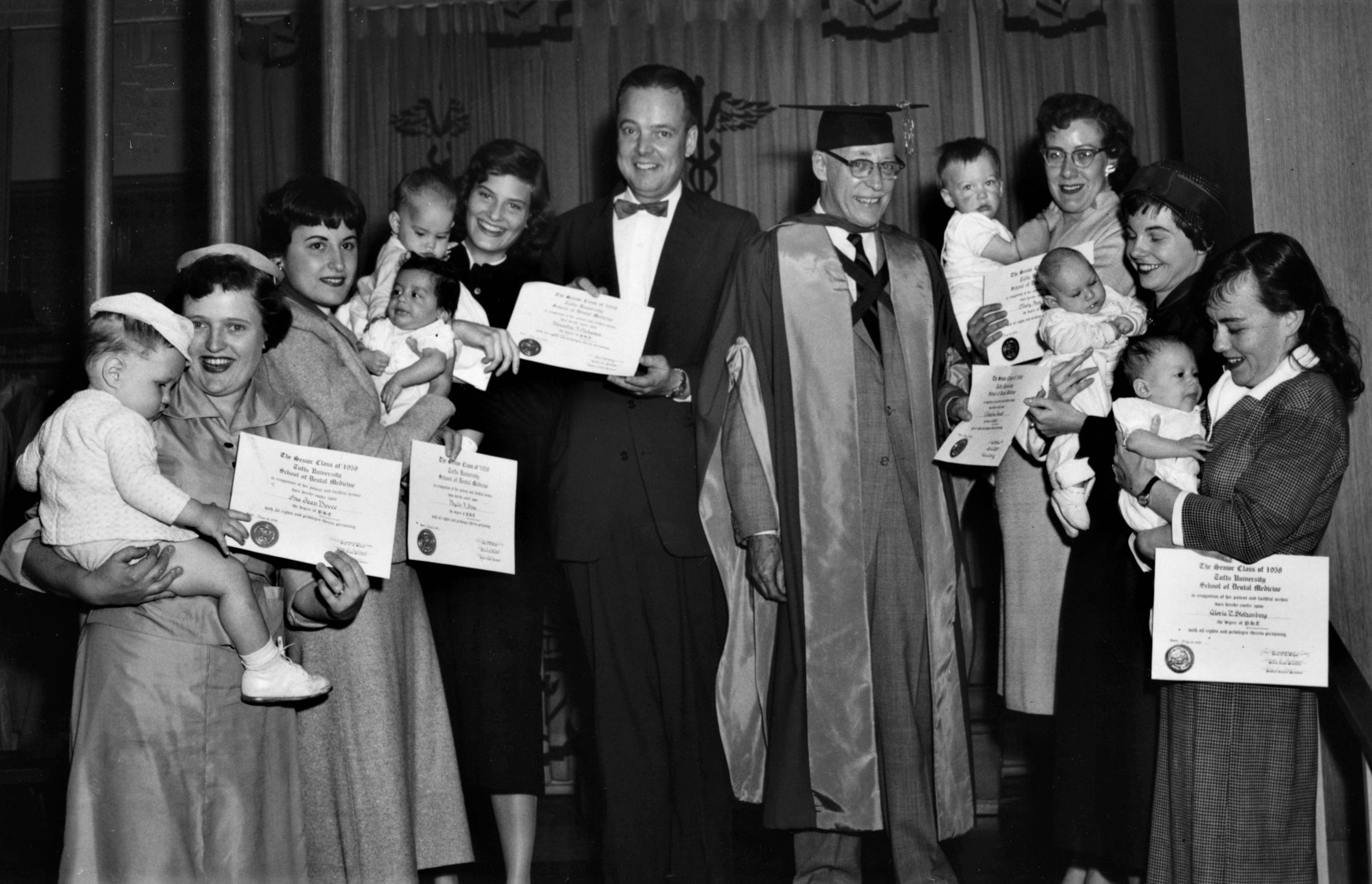 This sense of kinship and the memories it fostered have been central to TUSDM for generations. In the 1950s and 1960s, the school even conferred upon its students' spouses a special degree: the "P.H.T." Reflecting the gendered society of the time, this "Put Husbands Through" school degree was a cheeky way of recognizing the institution's gratitude for those women (and often, mothers) who worked, raised children, and usually put their own studies and careers on hold while their husbands studied at TUSDM. Many made this sacrifice: in 1959 alone, TUSDM administrators signed and sealed 62 P.H.T. certificates.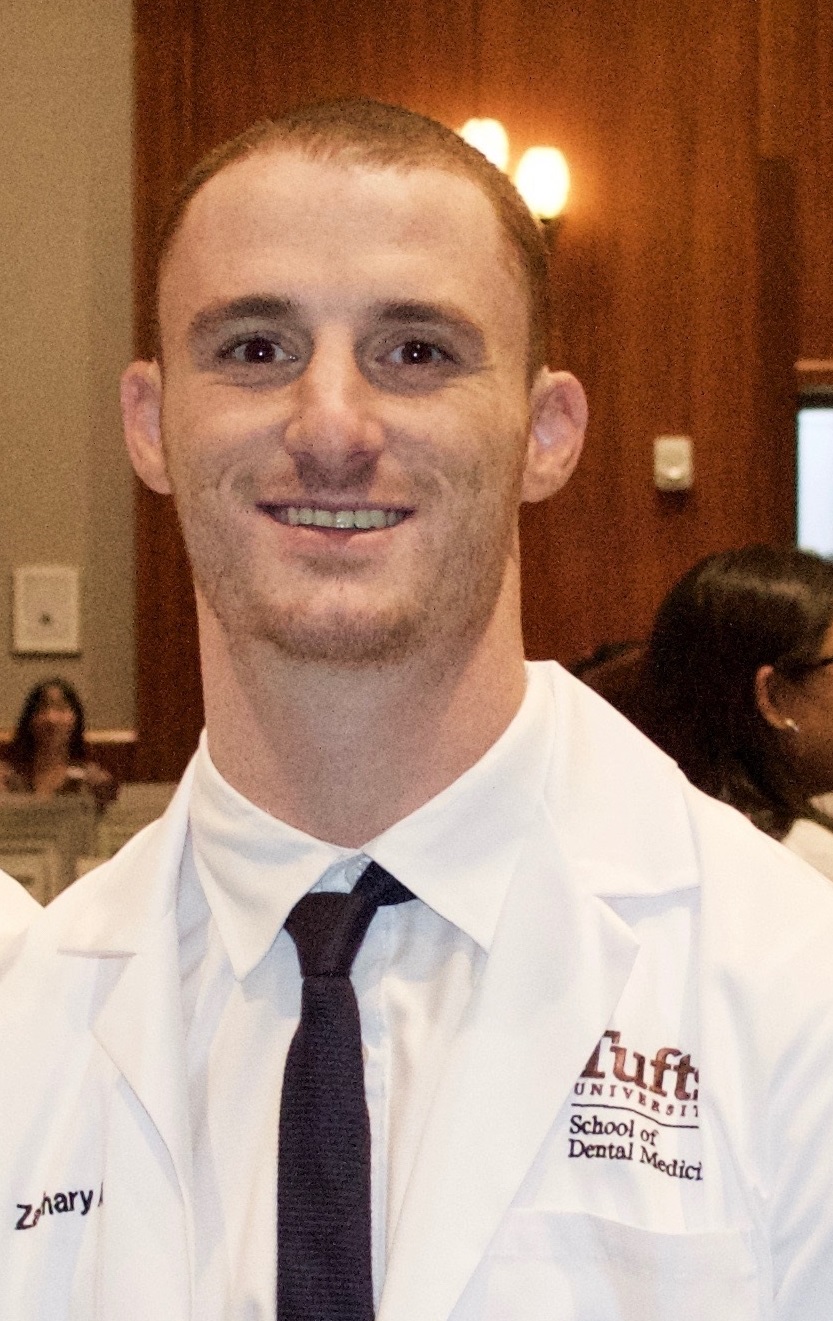 The ties that unite the TUSDM family have grown stronger with time. An active alumni association hosts many opportunities to gather together, share stories, and shape the School of Dental Medicine's future. Several such events celebrate the TUSDM sesquicentennial in 2018.
One can witness the germination of these relationships in recent and current TUSDM students. Zack Golub (D20), the fifth member of his family to attend TUSDM, recounted how he sees this extended, Tufts family at work every day. "I see the relationships my parents have built with their classmates," he said, "and I don't think you can really quite beat that. They're very close. They refer patients to one another. They work with each other and, you know, just in the first couple weeks of school right now, we're already starting to develop these close relationships with our classmates, and it's been really great so far."